Vote for Billy's for all the family
Posted by Clare Willison on 1st June, 2017
Filed under: Billy's News

Comments Off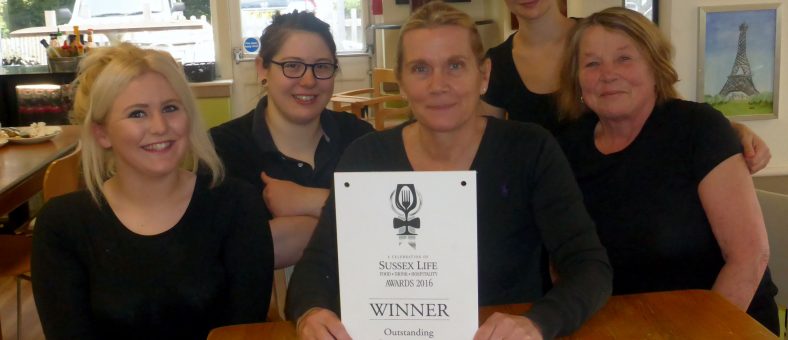 All our regulars will know by now that we are the current proud title holders of the Sussex Life Outstanding Customer Service Award. And this summer, we are aiming for the Best Family Dining Award and need your help to share your love of Billy's.
We strive to appeal to all generations with a wide food offer which includes a fun kids' menu, lighter lunches for smaller appetites, healthier choices for those being good, and all day breakfasts for those who are not.
We also have daily specials which may include a curry, or a pasta option, or just-baked fruit crumble, and there is always a homemade soup – all freshly prepared by Billy and her team.
Children love our cheeky names for dishes such as Smartypants (scrambled egg with either smoked salmon or ham and triangles of toast), Scooby Stack (a stack of mini pancakes with chocolate spread, Nutella, peanut and maple butter, or maple syrup) and even, dare we say it, Fartypants – a pot of baked beans with melted cheese soldiers.
The variety on offer for all ages means while your children are tucking into a Wiffle Waffle (waffles with fruit, syrup, Nutella or yogurt and honey) you can enjoy butterflied marinated chicken breast in a soft bap with our own BBQ sauce. And if dad or granddad want to have Billy's Big Breakfast – not for the faint-hearted – then they can.
But for many of our regulars, a visit to Billy's is more than just about the food.  Our Hornby's train track, whizzing round under a glass dining table, fascinates both young and old, and our dolls' house, made by the talented Mr Lee Brown of Horsham, is proving popular with children. Parents and grandparents can relax over breakfast or lunch whilst their little ones play to their hearts content.
Situated halfway between the M25 and the coast, we are the perfect pitstop for all the family heading on their way out, or their way back, from a day out this summer. If you agree Billy's has family appeal, then please vote for us in this year's Sussex Life Awards 2017 Best Family Dining category.