No buts – it's got to be a Baconana Butty!
Posted by Clare Willison on 7th March, 2018
Filed under: Billy's News

Comments Off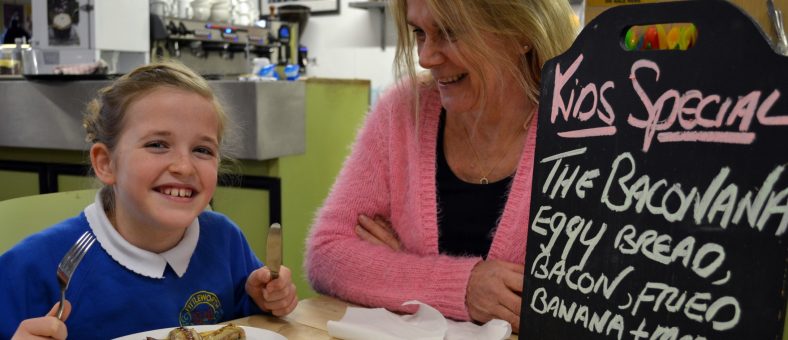 Well, what can we say! When we threw down the gauntlet to our young customers to come up with fun and delicious dishes for our new kids' menu, we had no idea we would be swamped with such amazing ideas.
Children from across the county have sent us their suggestions for sizzling sausages, alphabet pizza, funny flying fish and much more. Some of them even went as far as drawing their dish, and giving our chef an exact list of ingredients.
So, it was a very tough job for all of us to decide a winner. After much debate – and a few trials by our chef to see if she could turn the ideas into reality – we finally chose the mouth-watering Baconana, created by nine-year-old Jessica Overton-Smith from Fittleworth.
She and her family come to Billy's meet up with friends every Christmas Eve and, when she saw the Kids' Menu Challenge competition leaflets in the café this festive season, she jumped at the chance to enter.
"I really like coming to Billy's as the names of the food on the kids' menu are fun and it is my sort of food. When I saw the competition, I thought, `Oooh, I could enter my bacon and banana butty'," she told us.
Her dish is a regular treat in the family and was discovered by Jessica's mum, Verity, when she was on a gap year in Zimbabwe years ago.
Jessica's dish includes crispy bacon, chopped banana and lashings of maple syrup. We have given it a little tweak by piling all those delicious toppings onto eggy bread and frying the banana for extra scrummyness. Jessica popped in recently to give our version of her dish the taste-test and it met with a huge thumbs up.
Our new kids' menu will be ready by end of March, but we couldn't wait until then to cook up this yummy creation for our customers, so the Baconana has been on our kids' specials board for the past few weeks.
She and her family will be coming in soon to claim their prize of a Billy's meal for all five of them. A big congratulations to her and also to our runners up – Jessica James, aged six, and her four-year-old brother Daniel who came up with the idea of `Wrap Attack', a do-it-yourself wrap with fillings, and 10-year-old Hayden Napier who suggested `No Moo Waffles', a dairy-free dish.
We love seeing our young customers giggle over the silly names on our kids' menu and it has been brilliant to have children involved in our menu creation. It shows that they are really interested in food and what goes in to it.
You'll be able to try the Baconana, Wrap Attack and No Moo Waffles when the new Kids' Menu is  launched later this month (March 2018).